Simple Explanations

Truthloader
---
Does Bush work for Carlyle, who owns Booz Allen, who get huge defense contracts
Truthloader | What you're not being told about Booz Allen Hamilton and Edward Snowden (10/07/13) [11:47]
Truthloader | Who are The Carlyle Group, and how are they connected to bin Laden? (08/16/13) [9:18]
Secret Groups
Truthloader | Bilderberg 2013 - Your guide to 'The Bilderberg Group' (05/30/13)[8:34]
Journalist & Whistleblowers
Truthloader | The War on Whistleblowers (11/12/13) [6:14]
Truthloader | Massive NSA spying program revealed by whistleblower Edward Snowden (06/10/13) [8:05]
Truthloader | Edward Snowden reveals the US 'black budget' of secret intelligence spending (08/30/13) [3:38]
Climate
Truthloader | Climate change could be far more serious than thought (01/03/13)[1:37]
Other Earth Threatening
Truthloader | How to start a war (01/07/14) [13:01]
Truthloader | Canada's Tar Sands: The most destructive project on Earth? (11/26/13) [7:50]
Truthloader | A race for what's left of the planet: The Arctic battleground (10/07/13) [11:47]
Truthloader | Who are Monsanto and are they really evil? (12/03/13) [11:09]
Military
Truthloader | Israel's nuclear weapons: the open secret (12/25/14) [8:42]

Story of Stuff
---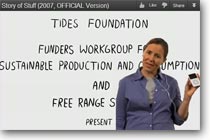 storyofstuffproject
Story of Stuff (2008) [21:16]
The Story of Citizens United v. FEC (2011)
The Story of Broke (2011) [8:07]
The Story of Bottled Water (2010) [8:04]
The Story of Electronics (2010) [7:47]
The Story of Cosmetics (2010) [8:18]
The Story of Cap & Trade (2009) [9:56]
PBS: BILL MOYERS JOURNAL | Daniel Goleman Being Informed Consumer
GoodGuide.com
Using Humor to Get People Interested in Complex Issues
---
Mitt the Ripper - Stephen Colbert's Super PAC Attacks Mitt Romney (01/15/12) [1:01]
Interview with Stephen Colbert (01/15/12) [10:10]
The Colbert Report: Jon Stewart takes over the Colbert Super PAC (01/12/12) [1:13]
Jon Stewart to Oversee Stephen Colbert SuperPAC (01/13/12) [2:11]
Stephen Colbert Runs For President 2012 [1:18]
Stephen Colbert: 'I am a Super PAC and So Can You' (06/30/11) [5:08]
C-SPAN: Stephen Colbert Opening Statement (09/24/10) [5:29]
The Colbert Report: A Rare Behind-the-Scenes Look (04/19/07) [2:33]
Subprimes, Derivatives, Banking Crisis
---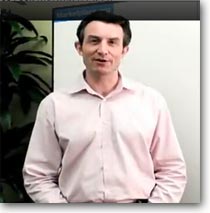 Shadow banking [10:00]
Derivatives [10:00]
Subprime [10:00]
Toxic Assets [10:00]
Inflation [10:00]
Crisis explainer [10:00]
Bonds, notes and bills - Treasury Debt [10:00]
High-Frequency Trading: (10/10/09) [8:36]


Chris Martenson - CRASH COURSE
---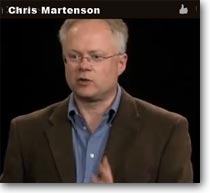 If everything changed at a snails pace we could take our time preparing for future crisis. But, what Chris Martenson is trying to educate us to is exponential growth and how it can throw a monkey wrench into our plans.
Crash Course 1 [5:15]
Crash Course 2 [9:08]
Crash Course 3 [6:28]
Crash Course 4 [9:29]
Crash Course 5 [4:07]
Crash Course 6 [9:21]


LearnLiberty.org
---
I don't really agree with these videos, because I think the Titles are misleading and are not really answered by the content. But, I do think this type of videos help start a conversation.
Are Corporations People? (05/07/12) [2:48]
Does Capitalism Exploit Workers? (07/19/12) [6:08]
Who Exploits You More: Capitalists or Cronies? (07/17/12) [2:38]
How Cronyism is Hurting the Economy (07/10/12) [3:37]
Social Security vs. Private Retirement (05/02/12) [4:36]
The Real "Truth About the Economy:" Have Wages Stagnated? (01/31/12) [5:13]
01.15.2012. 09:51